Professional Activities, Honor Societies, and Awards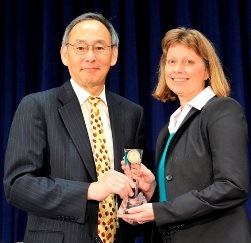 Fellow, American Nuclear Society, June 2005.


Member, Advisory Committee on Reactor Safeguards, U.S. Nuclear Regulatory Commission, 2010-present; serving on a wide range of subcommittees, including those addressing Extended Power Uprates (Chair), Consequence Steam Generator Tube Ruptures (Chair), AP1000 Design Certification, NRC Research, Level 3 PRA, APWR Design Certification, Fuels and Materials, and Naval Reactors Review.


Elected Member, Board of Directors, American Nuclear Society, June 2009-June 2012.


Co-chair and Member, DOE Office of Nuclear Energy, Science and Technology (DOE-NE) Nuclear Energy Advisory Committee (NEAC); invited by DOE Secretary Moniz, 2013-present; Previously, member of Nuclear Energy Research Advisory Committee (NERAC); invited by DOE Secretary Richardson and appointed for a second term by DOE Secretary Abraham, 1998-2005.


Department of Energy Secretarial Honors Award, October 2011, for contribution to US Fukushima response effort.


Idaho Innovation Award Finalist, 2007.


Member, Nuclear Technology Editorial Advisory Board (2000-2016); Guest Editor for four Special Editions containing invited papers.


Member, Journal of the Korean Nuclear Society Editorial Advisory Board (2003-2014).


1993 INEEL Best Product Award (for NRC LWR Lower Head Failure Program NUREG/CR report).


Certificate of Appreciation from NRC and OECD-NEA for outstanding contribution to OECD-NEA TMI-2 Vessel Investigation Project.


Invited presenter at numerous domestic and international symposiums sponsored by US and international government, regulatory, industry, professional society, or university organizations such as IFE/HRP (Norway), CEA (France), SKi (Sweden), INSS (Japan), KAERI (Korea), Osaka University (Japan), National Tsing Hua University (Taiwan), Seoul National University (Korea), KFA (Germany), Battelle-Frankfurt (Germany), University of Pisa (Canada; Netherlands, Sweden); PSI (Switzerland), DOE/BINE (China, US), DOE/NUPEC (Japan, US), OECD (France), ACRS/NRC (US).


Key organizer (e.g., Technical Program Co-Chair, Technical Track Leader, Invited Panelist, International Technical Program Committee Member, Program Review Committee, Conference Steering Committee, Technical Session Coordinator, and/or Session Organizer/Chair) for numerous international conferences on nuclear engineering, thermal hydraulics, and instrumentation.


Member, American Nuclear Society (ANS); 1979 - present:

Fellow, ANS, June 2005.
Board of Directors, ANS, June 2009- June 2012
ANS Thermal Hydraulic Division (THD) Vice-Chair/Chair (June 2005 - May 2007)
ANS THD Treasurer (June 2003- May 2004)
ANS THD Executive Committee (2002-2007)
ANS THD Honors & Awards Committee (2003-2010)
ANS THD Nominating Committee Chair (2007-2008)
ANS Honors & Awards Committee (2006-2009)
ANS Nominating Committee (2010)



Member, American Society of Mechanical Engineers


Member, Institute for Electrical and Electronics Engineers; Elevated to Senior Member, March 2012.